Portland Radio Historysee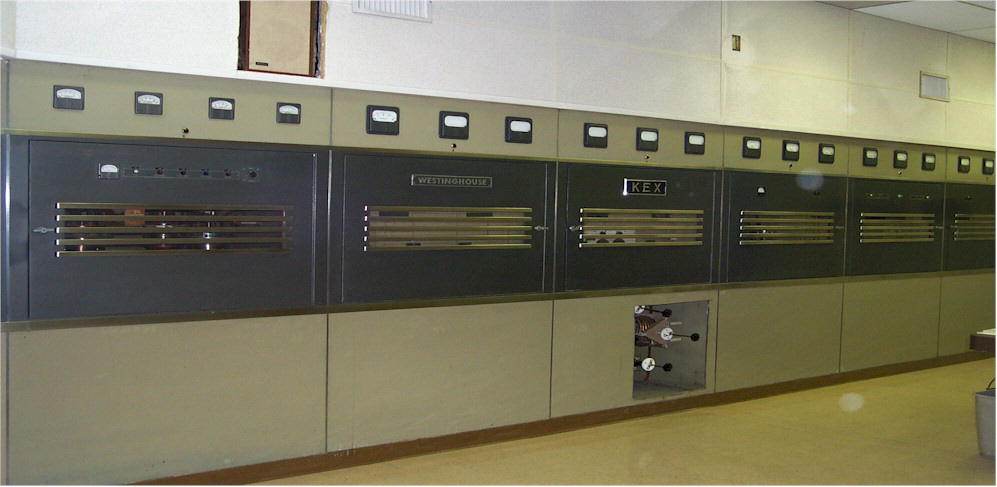 This is the old KEX 50,000 watt Westinghouse transmitter. KEX was Portland's first high power AM radio station with a signal spanning up and down the West coast of the United States.



This shows the old KGW AM 620 radio towers in North Portland, adjacent to I-5 and Portland International Raceway (looking North across Interstate highway). The tall towers were removed in December of 2000. More info at http://www.portofportland.com/

And, a peek inside of the old AM 620 RCA tube transmitter


The newer Continental AM 620 transmitter, at center right under the orange bar. Through the miracle of modern technology, the newer transmitter is one fifth the size of the older.




Thanks to Chris Weiss of Clear Channel Communications, Portland for the inside pictures.
| | |
| --- | --- |
| KGW radio, 1924 | KGW Picture Parade |
The above two photos courtesy the Puget Sound Theatre Organ Society. They have early Portland radio broadcast pictures of KOIN and KEX too.
home
fm/am/owners
interact
history
internet radio
podcasts

Copyright © 1995-2013 Media Scan and Dan Packard

Privacy policy
contact